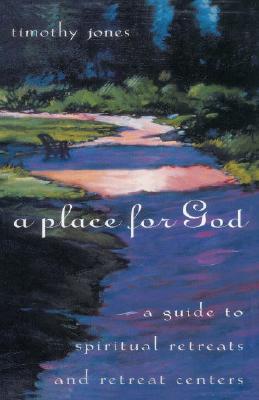 Stock Image
Author Name Jones, Timoth
Title A Place for God: A Guide to Spiritual Retreats and Retreat Centers
Binding Soft cover
Book Condition Very Good
Jacket Condition No Jacket
Type Book
Edition 1st Edition
Size 8vo - 8.25 in.
Publisher NY Image (Doubleday) 2000
ISBN Number 0385491581 / 9780385491587
Seller ID 503003922
Thumbed, but no writings or markings. Binding firm. 8.25 in by 4.5 in. vertical format. More than 250 retreat centers in US and Canada are listed. Each is given several paragraphs of information, including religious affiliation, if any, summary of daily schedule, nearby points of interest, and suggested donations. About 80 pp. of general information about what to expect from a retreat. Explanation of differences between individual and directed retreats, receiving guidance from a spiritual l director, etc. Most retreat centers offer no-frills accommodations but not all are austere. The book is limited to facilities that invite outsiders. It does not include strictly cloistered convents or monasteries.
Religion. Spiritual. Retreat. Meditation. Contemplation. Inns. Conference.
Price = 7.00 USD