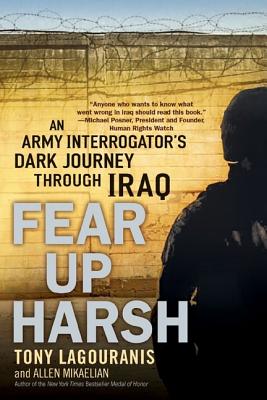 Stock Image
Author Name Lagouranis, Tony (with Mikaelian, Allen)
Title Fear Up Harsh
Binding Trade Paperback
Book Condition Fine
Type Book
Edition 1st Paperback Edition.
Publisher NY NAL Caliber (Penguin) 2007
ISBN Number 0451223152 / 9780451223159
Seller ID 010310
254 pp. Close to new, no markings or creases. An Army interrogator tells of his first hand experiences with POWs in Abu Ghraib prison and other locations in Iraq. He discloses the military often disregarded Geneva Convention rules against torture. Size: 8vo -- 9 in By 9 in Square Format
More Description
"Something really bad happened here." So begins Army interrogator Tony Lagouranis's first briefing at Abu Ghraib. While Lagouranis's training stressed the rules of the Geneva Conventions, once in Iraq, he discovered that pushing the legal limits of interrogation was encouraged. Under orders, he-along with numerous other soldiers-abused and terrorized Iraqis by adding "enhancements" like dogs, hypothermia, and other techniques to "Fear Up Harsh"-the official tactic designed to frighten prisoners into revealing information. And he saw others do far worse.
The first Army interrogator to publicly step forward and break the silence surrounding these tactics, Lagouranis reveals what went on in Iraqi prisons- raising crucial questions about American conduct abroad.

MILITARY. IRAQ. OCCUPATION. ABU GHRAIB. INTERROGATION. PRISONERS OF WAR. GENEVA CONVENTION.
Price = 5.00 USD