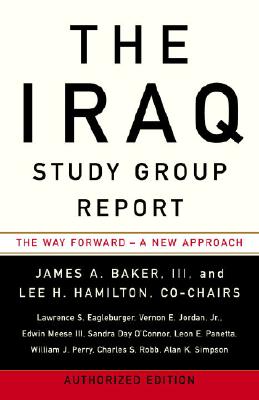 Stock Image
Author Name Iraq Study Group, Baker, James A., Hamilton Lee H. Et al.
Title The Iraq Study Group Report: The Way Forward - A New Approach
Binding Trade Paperback
Book Condition Fine
Type Book
Edition 1st Paperback Edition.
Publisher NY Vintage 2006
ISBN Number 0307386562 / 9780307386564
Seller ID 010305
142 pp. Nearly new, no spine creasing or text markings. Small red line on top edge near spine. An overview of the US attempt to occupy and rebuild Iraq as of 2005. Brief history of the US invasion, along with 79 recommendations to the Bush Administration for future policy. Study group was a bipartisan panel of senior govt officials. Size: 8mo -- 8 in Tall
More Description
On March 15, 2006, members from both parties in Congress supported the creation of the bipartisan Iraq Study Group to review the situation on the ground and propose strategies for the way forward. For more than eight months, the Study Group met with military officers, regional experts, academics, journalists, and high-level government officials from America and abroad. Participants included George W. Bush and members of his cabinet; Bill Clinton; Jalal Talabani; Nouri Kamal al-Maliki; Generals John Abizaid, George Casey, and Anthony Zinni; Colin Powell; Thomas Friedman; George Packer; and many others. This official edition contains the Group's findings and proposals for improving security, strengthening the new government, rebuilding the economy and infrastructure, and maintaining stability in the region. It is a highly anticipated and essential step forward for Iraq, America, and the world.
MIDEAST. IRAQ. IRAQ INVASION. OCCUPATION. NATION BUILDING
Price = 6.00 USD