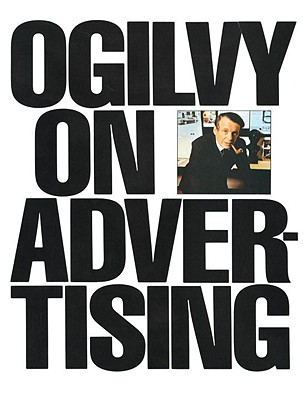 Stock Image
Author Name Ogilvy, David
Title Ogilvy on Advertising
Binding Trade Paperback
Book Condition Very Good +
Jacket Condition No Jacket
Type Textbook
Edition First Thus
Size 4to -- 9.75 in.
Publisher NY Vintage 1985
ISBN Number 039472903X / 9780394729039
Seller ID 010287
224 pp. on coated stock. Front cover curves outward, otherwise close to new, and no markings. Spine uncreased. The NY advertising giant reflects on decades of success and basic principles that still govern both print and broadcast advertising. Many anecdotes and case examples. Samples of ads on most pages. Written in a breezy, humorous and opinionated style, of interest both to students and consumers of advertising.
More Description
A candid and indispensable primer on all aspects of advertising from the man Time has called " the most sought after wizard in the business" . 223 photos.
Marketing. Advertising. Salesmanship. Media. Information
Price = 6.50 USD