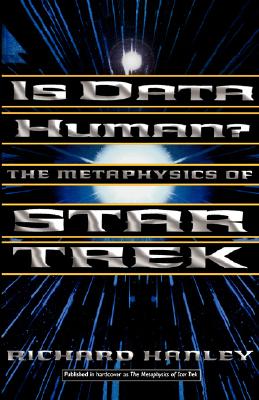 Stock Image
Author Name Hanley, Richard
Title Is Data Human? The Metaphysics of Star Trek
Binding Trade Paperback
Book Condition Very Good
Edition 2nd Printing
Size 8vo -- 8 in.
Publisher NY Basic Books 1998
ISBN Number 0465045480 / 9780465045488
Seller ID 010134
253 pp. Light wear, corners thumbed. Text clean. Small marker slashes on top edge and bottom edge. Includes an epilogue on "The Future." Bibliography and index. A philosopher deals with questions about artificial intelligence and other issues posed by the Star Trek TV series and movie franchise.
More Description
Professor Richard Hanley faced the dilemma plaguing so many philosophy professors today--how to entice students into the classroom. Based upon his own successful course, "Is Data Human" presents a thoroughly unique and enjoyable way of introducing students to the basic concepts of philosophy as seen through the lens of "Star Trek." From the nature of a person, of minds, and of consciousness, to ethics and morality, to the nature and extent of knowledge and free will, Hanley brings a fresh perspective to the contemporary debates concerning humankind's place in the world.Dare to boldly go where no philosophy professor has gone before--a classroom packed with eager and enthusiastic students.
Metaphysics. Reality. Human. Robot. Artificial Intelligence. Machine. Star Trek.
Price = 4.50 USD