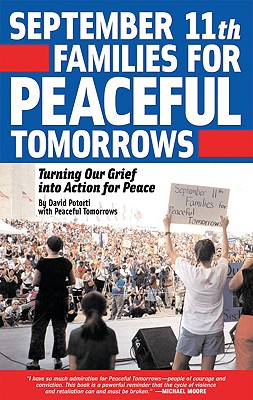 Stock Image
Author Name Potorti, David, Ed.
Title September 11th Families for Peaceful Tomorrows: Turning Tragedy into Hope for a Better World
Binding Trade Paperback
Book Condition very good+
Edition 1st Paperback Edition
Size 8vo -- 8.25 in High
Publisher New York RDV Books/Akashic Books 2003
ISBN Number 0971920648 / 9780971920644
Inscription Signed by Editor
Seller ID 010132
246 pp. Flat-signed by author/editor David Potorti on half-title page. Previous owner's name also on half title page. Small corner crease, lightly read. Spine uncreased. Text clean. A group of 50 relatives of 9-11 victims in the U.S. lay out their peace proposals and opposition to wars in Afghanistan and Iraq.
More Description
"Nominated for this year's Nobel Peace Prize, the Peaceful Tomorrows (families of September 11 victims) present a groundbreaking collection of essays, poems, songs and art about pacifism as a response to tragedy."
Opposition to George W. Bush's war against Iraq is growing. No voices in the resistance are more powerful, more visible, or more credible than "September 11 Families for Peaceful Tomorrows," a nonprofit group of family members of September 11 victims dedicated to finding alter-natives to war as a response to personal and national tragedies. The Peaceful Tomorrows represent more than fifty people who lost loved ones in New York, Washington and Shanksville, PA, as well as more than two thousand supporters. They have spoken in twenty-five states and eight foreign countries, and have sent delegations to both Afghanistan and Iraq to meet with civilians who similarly lost loved ones due to terrorism and war. On February 15, 2003, members of Peaceful Tomorrows led the United for Peace march in New York City, which drew more than two hundred fifty thousand people.
This book will begin with an account by editor (and group member) David Potorti, covering the first year and a half of the Peaceful Tomorrows--how they came together to form the group, how they pursued their mission without an income, and how they connected with people in other countries. This introduction will be followed by -essays from group members on various topics, including forgiveness and keeping the faith (Andrew Rice/Myrna Bethke); the power of music (Kristina Olsen/Derrill Bodley); creating community (Barry Amundson); a military perspective (Ryan Amundson); a report from the delegations to Iraq (Kat Tinley, Terry Rockefeller), Afghanistan (Kelly Campbell, Rita Lasar), and Hiroshima/Nagasaki (Amundson, Lasar); and a commentary on the media's -response to both the 9/11 disaster and the work of the Peaceful -Tomorrows (Potorti). The volume will also include guest essays from high-profile supporters of the Peaceful Tomorrows.
Terrorism, 9-11, Peace, Pacifism, Antiwar, Iraq, Afghanistan
Price = 12.00 USD