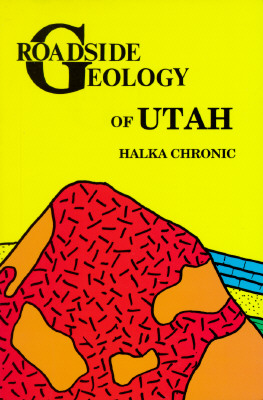 Stock Image
Author Name Chronic, Halka
Title Roadside Geology of Utah (Roadside Geology Series)
Binding Trade Paperback
Book Condition Very Good
Jacket Condition No Jacket
Edition Second Printing
Size 8vo -- 9 in Tall
Publisher Missoula, Montana Mountain Press Publishing Company 1991
ISBN Number 0878422285 / 9780878422289
Seller ID 010126
326 pp.Numerous small b&w photos of rock formations, location maps. Curled front cover, and thumbed, but else close to new. No markings, spine uncreased. A detailed description of geological formations in Utah that are visible or easily reachable from highways and a few side roads. Plus general background on Earth's composition and movements. Written for the layman but with precise scientific terminology. With index and helpful glossary.
More Description
Informative travel companions about roadside terrain and geology with photos, diagrams, and glossary.
Geology. Travel. Landscapes. Americana. Utah. Nature.
Price = 10.00 USD