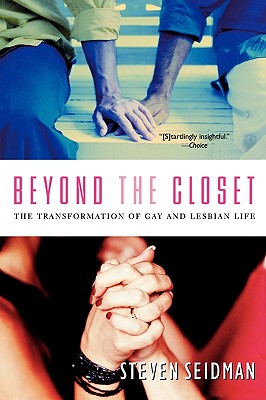 Stock Image
Author Name Seidman, Steven
Title Beyond the Closet: The Transformation of Gay and Lesbian Life
Binding Trade Papeback
Book Condition Very Good
Size 8vo-- 9 in Tall
Publisher NY Routledge & Kegan Paul 2003
ISBN Number 0415932076 / 9780415932073
Seller ID 009809
Lightly read, diagonal corner crease on rear cover. Spine uncreased. Text mostly clean, a few light pencil notes on front endpaper, and highlighting on about 10 pages toward rear. 245 pp., reference notes, index. A State University of NY/Albany sociologist analyzes behavior of gays after they become open about their orientation. He finds many of them striving for the "good gay" (straight acting/appearing) image preferred by the dominant heterosexual culture. Includes several case studies. The book won the 2003 Simon and Gagnon Award from the American Sociological Association.
More Description
Gay life has become increasingly open in the last decade. In Beyond the Closet, Steven Seidman, a well-known author and leading scholar in sexuality, is the first to chronicle this lifestyle change and to look at the lives of contemporary gays and lesbians to see how their "out" status has changed. This compelling, well-written, and smart account is an important step forward for the gay and lesbian community.
Gay. Homosexual. Orientation. Culture. Sociology. Assimilation. Heterosexual. Behavior.
Price = 5.00 USD